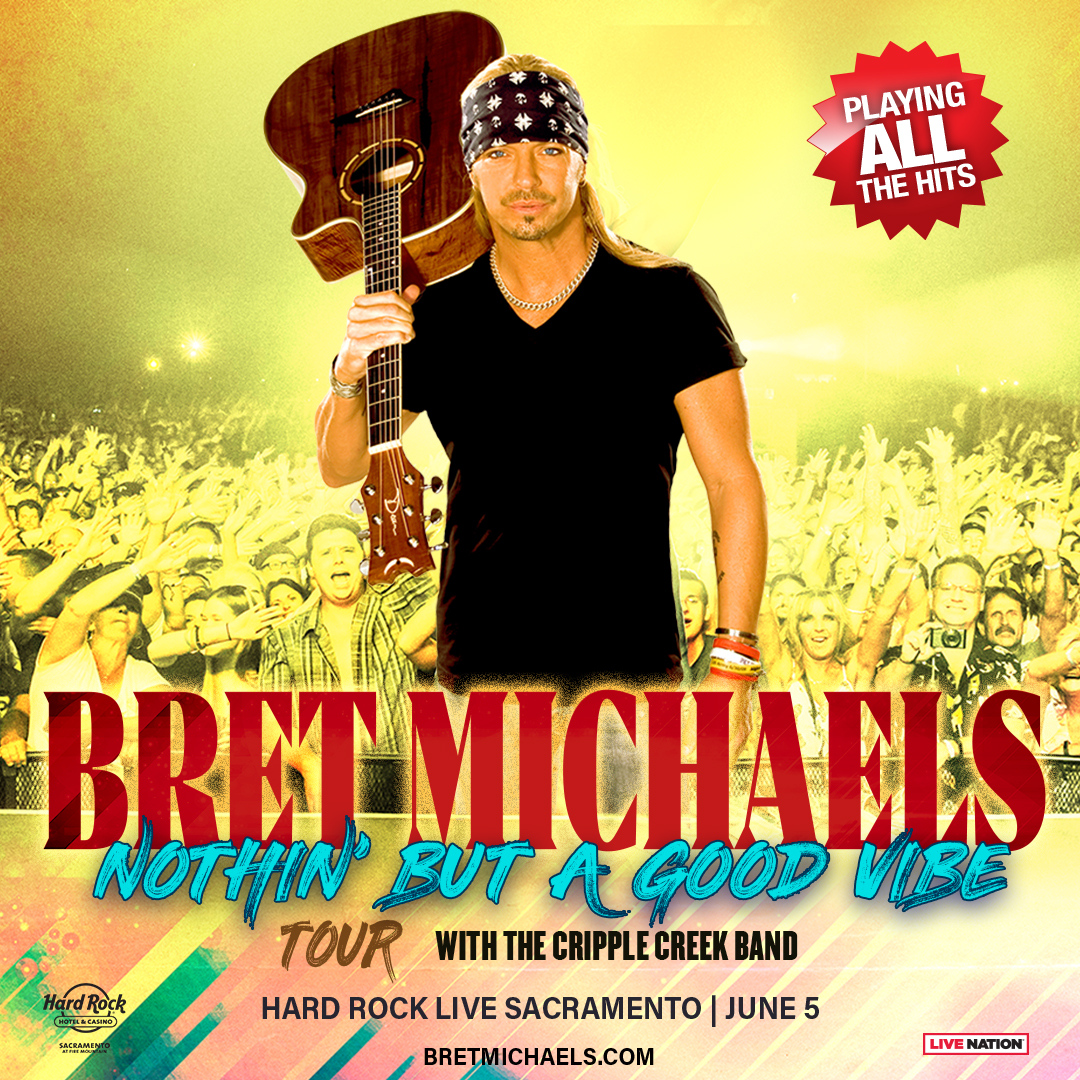 Bret Michaels Hard Rock Hotel and Casino

| | |
| --- | --- |
| | The Cripple Creek Band |
| | June 5, 2022 |
| | 7:00 pm |
| | Wheatland, CA |
| | Hard Rock Hotel and Casino |
| | Directions |
Tickets
With over three generations of fans, Bret Michaels is revered as a megastar in the entertainment industry. One of music's most iconic and enduring singer/songwriters, Michaels' massive success includes selling over 50 million records worldwide and numerous hit singles such as Every Rose Has It's Thorn, Go That Far and Nothing But A Good Time.
The Poison front man has built his brand piece by piece and retaining ownership and control of his own personal brand has solidified Bret as a successful entrepreneur. In the words of former Viacom CEO Judy McGrath, this has made Bret a 'cultural touchdown'. Bret has produced and stared in record-breaking hit TV shows, (Rock of Love with Bret Michaels, Life as I know it with Bret Michaels and Travel Channel's Bret Michaels Rock My RV ), is a Celebrity Apprentice winner and was voted NBC Apprentice fan favorite.
Brett Michaels gained fame as the front man for Poison in the 80's and 90's.  The band has over 50 million albums worldwide.  The band has also charted 10 singles in the top 40, including six Top 10 singles and a number-one single, "Every Rose Has it's Thorn".
The Cripple Creek Band is a high-energy country and southern rock band seeking to provide the best show possible for its audience.  Since 2012, The CCB has been playing all over the west coast.  Fans of CCB will hear a variety of music genres at its shows, including country, rock, southern rock, and even a hint of bluegrass. For the Cripple Creek Band, it truly is "All About the Music."